Event: Promoting Sustainability for SMC
3-4:15 pm CEST (Geneva Time) / 9-10:15am EST / 1-2:15pm GMT / 2-3:15pm WAT / 3-4:15pm CAT
https://zoom.us/meeting/register/tJMkfuygpjMpG9XldbqKllrzawjhd1XgxakO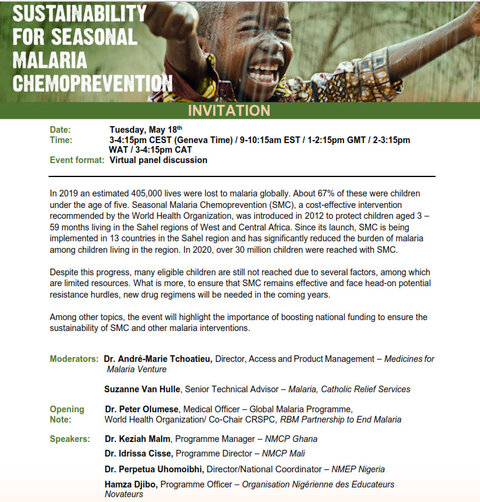 (see French version below/voir la version française ci-dessous)
(Convite e agenda também anexados em português / Invitation & agenda also attached in Portuguese)
Dear colleagues,
We are delighted to share the invitation and agenda for the Promoting Sustainability for SMC Meeting to be held on Tuesday, May 18th at 13 :00 GMT.
We kindly ask you to register in advance for this meeting :
Registration link: https://zoom.us/meeting/register/tJMkfuygpjMpG9XldbqKllrzawjhd1XgxakO

After registering, you will receive a confirmation email containing your personal link to join the meeting.
This link is personal and should not be shared. Only the person who has registered will be able to access the meeting.
Please find below important information about the meeting :
When you enter the meeting, please rename yourself with your name, institution & country (3 dots on the right top corner of your profile window.)
Contributing to the meeting :
Attendees are invited to switch their cameras and microphones off to preserve bandwidth and avoid background noise. Please note the moderator may mute you if required.
Please type any questions or comments arising from the presentation into the chatbox.
During the dedicated Q&A sessions
You are invited to switch your camera on (if your connection permits), and raise your hand to signal that you would like to comment. The moderator will call upon you to speak. You may also use the chatbox to comment or ask a question, or signal that you would like to speak.
Please note that the meeting will be recorded (image & sound)
If you have problems getting connected to the meeting, or require any kind of assistance, please send us an email at

mmvevents

[at] mmv

[dot]

org.
We look forward to an interesting and engaging meeting, and in the meantime wish you a good week; stay safe.
Best wishes,
Marjorie
Cher(e)s collègues,
Nous sommes ravis de partager avec vous l'invitation et l'agenda pour la Réunion Vers une durabilité de la CPS qui aura lieu le mardi 18 mai à 13 :00 GMT.
Nous vous remercions de bien vouloir vous inscrire à l'avance à cette réunion :
Lien d'enregistrement : https://zoom.us/meeting/register/tJMkfuygpjMpG9XldbqKllrzawjhd1XgxakO
Après vous être inscrit, vous recevrez un e-mail de confirmation contenant votre lien personnel pour rejoindre la réunion.
Ce lien est personnel et ne doit pas être partagé. Seule la personne qui s'est inscrite pourra accéder à la réunion.
Veuillez trouver ci-dessous des informations importantes sur la réunion :
Lorsque vous accédez à la réunion, nous vous prions de vous renommer avec votre nom, institution et pays (3 points dans le coin supérieur droit de votre fenêtre de profil.)
Contribuer à la réunion :

Pendant les présentations
Les participants sont invités à éteindre leurs caméras et microphones pour préserver la bande passante et éviter les bruits de fond. Veuillez noter que le modérateur peut couper votre son si nécessaire.
Veuillez saisir toutes les questions ou commentaires découlant de la présentation dans la boîte de dialogue.
Pendant les sessions de questions / réponses
Vous êtes invité à allumer votre caméra (si votre connexion le permet) et à lever la main pour signaler que vous souhaitez commenter. Le modérateur vous demandera de parler. Vous pouvez également utiliser la boîte de discussion pour commenter ou poser une question, ou signaler que vous souhaitez parler.

Veuillez noter que la réunion sera enregistrée (image et son)
Si vous rencontrez des problèmes pour vous connecter à la réunion, ou si vous avez besoin d'assistance, veuillez nous envoyer un e-mail à

mmvevents

[at] mmv

[dot]

org.
Nous nous réjouissons d'une réunion intéressante et engageante, et en attendant vous souhaitons une bonne semaine.
Meilleures salutations,
Invitation Promoting Sustainability for SMC / Vers une durabilité de la CPS