Guinea
Areas eligible for SMC and areas where SMC is implemented in 2020
| | | | |
| --- | --- | --- | --- |
| Guinea | Children 3 - 59 month planned | Children 3 - 59 month treated | Efficiency |
| Cycle 1 | 1077467 | 1017581 | 94% |
| Cycle 2 | 1077467 | 1094482 | 102% |
| Cycle 3 | 1077467 | 1120128 | 104% |
| Cycle 4 | 1077467 | 1120583 | 104% |
Monitoring of coverage completeness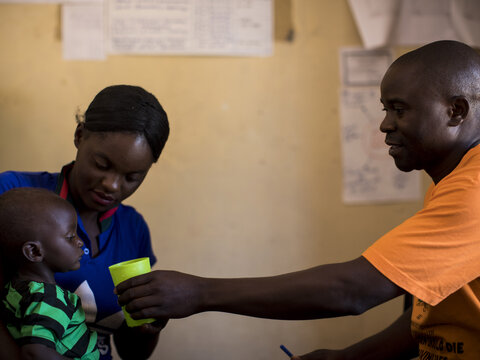 Monitoring for coverage
Geographic coverage and administrative office of the SMC is controlled by :
The participatory approach with the community through meetings advocacy (local elected officials, leaders, etc.);
Close supervision;
Monitoring during and after the campaign;
Interactive broadcasts through radio stations;
Independent coverage survey at the end of the campaign;
The triangulation of data through the daily verification of the number of children treated per team;
The data quality control survey by cycle;
Data synthesis and validation meeting at the district;
A coverage survey was also carried out in 2020
Monitoring for compliance
Verifying the correct administration of SP;
Checking the administration of the last 2 doses (AQ);
The identification of adverse reactions (ADRs).
Monitoring for effectiveness
Strengthen the monitoring of pharmacovigilance;
Monitor morbidity and mortality related to malaria;
Gather community views on the effectiveness of smc
Carry out a molecular survey
Avancées, opportunités, obstacles et solutions pour la saison 2020 de CPS
Successes
Adaptation of key messages of SMC to COVID 19 context;
Achieving the programmatic objectives of SMC by cycle (Macro and microplanning);
Capacity building of stakeholder Implementation ;
Administration of SP + AQ by mothers / caregivers;
Provision of actors with protection kits against COVID - 19;
Community buy-in;
Sufficient availability of inputs and on time;
Establishment of case management committees to manage delays ;
The involvement and motivation of all stakeholders involved;
The combination of SMC with other interventions.
Actions to take
The scaling up of ICT4D digital technology;
Supervise the taking of the last two doses of AQ;
Extend SMC to other eligible districts;
Institutionalize the association of other interventions (vaccinations, IPT, LLINs, case management) to the SMC campaign.
Challenges
Campaign organization despite the restrictions required of COVID - 19;
Compliance with the timing of SMC campaign;
Target coverage despite the sub - estimate of the target in mining and mobile populations;
Organization of SMC during presidential elections
Proposed solutions
Integrate SMC activities into district plans;
Involve other partners in the financing of SMC;
Develop strategies specific for mining areas.
Adoption of safety practices for the implementation of SMC during the presidential elections.
Priorités de recherche futures
Research priorities
Extension of the SMC to five cycles in two pilot districts and the carrying out a comparative socio-anthropological study (2021);
Historical study of the morbidity and mortality of malaria in 2015 to 2020 in health centers and hospitals in the Republic of Guinea (in 2021)
Partners
The Global Fund / Catholic Relief Services
President's Malaria Initiative / STOP PALU;
The London of Hygiene and Tropical Medicine
MSF
MMV
CRS
EDCTP