Areas eligible for SMC and areas where SMC is implemented in 2021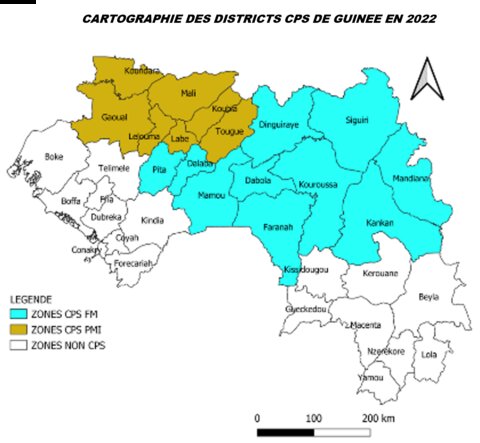 | | | | |
| --- | --- | --- | --- |
| Guinea: SMC 2021 season | # of children targeted | # of children reached | Coverage |
| Cycle 1 | 1,103,060 | 1,087,623 | 99% |
| Cycle 2 | 1,103,060 | 1,119,775 | 102% |
| Cycle 3 | 1,103,059 | 1,153,167 | 105% |
| Cycle 4 | 1103059 | 1131587 | 103% |
| Cycle 5 | 44518 | 41140 | 92% |
| Children receiving at least 4 cycles | 1103059 | 1023165 | 93% |
Monitoring of coverage completeness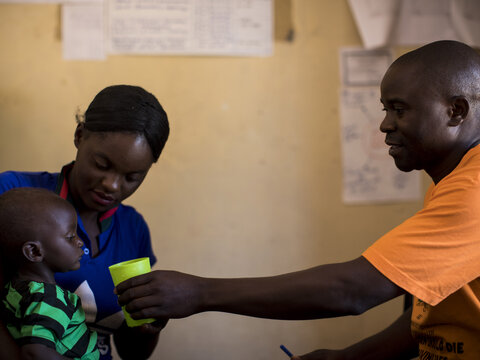 Monitoring for coverage
Geographic coverage and administrative office of the SMC is controlled by :
The participatory approach with the community through meetings advocacy (local elected officials, leaders, etc.);
Close supervision;
Monitoring during and after the campaign;
Interactive broadcasts through radio stations;
Independent coverage survey at the end of the campaign;
The triangulation of data through the daily verification of the number of children treated per team;
The data quality control survey by cycle;
Data synthesis and validation meeting at the district;
A coverage survey was also carried out in 2020
Monitoring for compliance
Prefectural and sub-prefectural advocacy meetings before each visit;
Monitoring during and after each passage / independent monitors and campaign supervisors;
Community survey by supervisors at all levels
Organization of interactive radio broadcasts;
2021 post-campaign coverage survey
Monitoring for effectiveness
Monitoring of malaria morbidity and mortality in children under 5 in SMC areas vs non-SMC areas;
Collection of community opinions on the effectiveness of SMC during household surveys and monitoring.
Successes, opportunities, challenges and solutions
Successes
Adaptation of key messages of SMC to COVID 19 context;
Achieving the programmatic objectives of SMC by cycle (Macro and microplanning);
Capacity building of stakeholder Implementation ;
Administration of SP + AQ by mothers / caregivers;
Provision of actors with protection kits against COVID - 19;
Community buy-in;
Sufficient availability of inputs and on time;
Establishment of case management committees to manage delays ;
The involvement and motivation of all stakeholders involved;
The combination of SMC with other interventions.
Actions to take
The scaling up of ICT4D digital technology;
Supervise the taking of the last two doses of AQ;
Extend SMC to other eligible districts;
Institutionalize the association of other interventions (vaccinations, IPT, LLINs, case management) to the SMC campaign.
Challenges
High workload of distribution teams in the context of pooling
Staffing of agents with pooling inputs
Challenges in ensuring quality implementation of SMC 22 with CD LLIN 22
Avoid interference during SMC campaigns
Improve the process of payment of actors by OM to avoid delays in payment
Proposed solutions
Support for a third agent in each team
Plan the consumption of pooling inputs in orders from health centers
Prioritize SMC areas in Part 1 of the Milda campaign scheduled for May 2022
Revitalize the consultation framework with the other programs and communicate the dates of passages in time
Strengthen the pooling of other interventions and SMC
Increase the number of staff for the rapid processing of requests
Ensure good planning
Send payment documents at least 7 days
Research priorities for 2021
Ethnographic study on the determinants of SMC in Siguiri and Kankan
Impact and cost-effectiveness study of a 5th visit to Dabola
Evaluation of the impact of SMC on malaria morbidity and mortality indicators
Partners
The Global Fund
Catholic Relief Services
The London of Hygiene and Tropical Medicine
KOICA