Optimising Seasonal Malaria Chemoprevention across Africa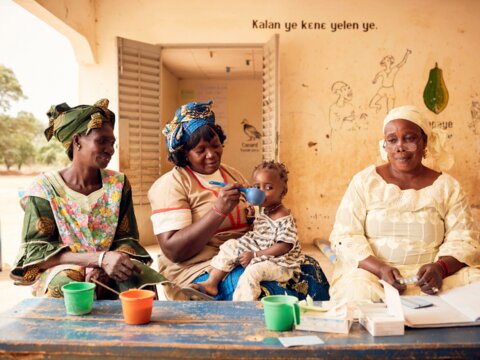 We are very excited to announce the launch of a new project, led by Prof Paul Millgan and Dr Susana Scott: OPT-SMC: implementation research to optimise delivery and effectiveness of seasonal malaria chemoprevention (SMC), which will start on 01 May 2020.

Seasonal Malaria Chemoprevention (SMC) involves monthly administration of the anti-malarials, sulfadoxine-pyrimethamine and amodiaquine, to all children under 6 years old during the malaria season. Across the Sahel and sub-Sahel regions of Africa, deaths and severe illness caused by malaria occur mainly in young children during the rainy season, which generally lasts four to five months. SMC for four or five months each year can provide children with a high level of protection.

In 2019, SMC programmes reached 22 million children. However, many of these children do not receive the full number of monthly treatments that are needed to protect them throughout the high-risk period, and there remain an estimated 13 million children who are eligible for SMC and could benefit but live in areas which do not have SMC programmes. The urgent need to close this gap and to optimise SMC delivery to protect all eligible children was stressed in a technical consultation organised by WHO's Global Malaria Programme and TDR (the Special Programme for Research and Training in Tropical Diseases). The OPT-SMC project aims to contribute to this goal by strengthening capacity of national programmes to conduct implementation research, to adapt SMC to the local context, and to improve its delivery and impact.

With funding from the European and Developing Countries Clinical Trials Partnership (EDCTP), the OPT-SMC project will support 14 countries in West Africa and Central Africa to conduct implementation research on SMC, working in partnership with the University of Thiès in Senegal, TDR, Medicines for Malaria Venture (MMV), and the London School of Hygiene and Tropical Medicine (LSHTM).

Over four years (2020-2024), OPT-SMC will support countries to plan and conduct implementation research to strengthen community engagement, and improve and adapt SMC delivery. An immediate priority is planning for safe delivery during the current COVID-19 pandemic. The WHO Global Malaria Programme and the SMC Working Group are developing guidance for countries to maintain distribution of SMC during the pandemic.

"As COVID-19 continues its rapid spread, WHO would like to send a clear message to malaria-affected countries in Africa," said Dr Pedro Alonso, Director of the WHO Global Malaria Programme.
"Do not scale back your planned malaria prevention, diagnostic and treatment activities. If someone living in a place with malaria develops a fever, he or she should seek diagnosis and care as soon as possible."